Our Test Jumpers have put together a handy little guide for packing your JYRO Leia (or other high performance canopy).
Please note, this is how we pack them and is not a guarantee that you won't have a malfunction. That is a fact of life as a skydiver. If you have a Leia, then join our Leia Lovers FB group!
It's a private group for lovers of our Princess and is a great forum-type place to put forth your questions, thoughts or comments to others who own a Princess from a Galaxy far, far away (Auckland, New Zealand).
HOW TO PACK YOUR JYRO LEIA
The following recommendations have been formulated from a combination of feedback and insight from current and experienced JYRO (previously Icarus) Leia jumpers as well as in-house knowledge. Using this information we have identified trends, and factors contributing to tension knots. Based on this we have developed the best packing practises to avoid them.
DISCLAIMER: This is not a packing manual. It is a guide to help reduce tension knots. If you have had no issues with tension knots in the past then there is probably no need to change your packing habits.
TWISTS IN YOUR BRAKE LINES CAN INCREASE THE RISK OF TENSION KNOTS. BEFORE PACKING, ENSURE THAT YOU HAVE UNTWISTED YOUR BRAKE LINES.
FLAKING YOUR CANOPY
Be sure to maintain an even tension on the canopy and lines throughout the pack job.

Keep the lines in the centre of the canopy.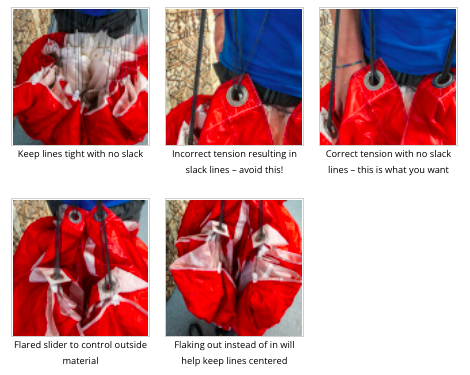 ROLLING THE TAIL
Don't lift the tail too high past the grommets. When bringing the tail up to wrap, avoid lifting it up past the slider grommets too far. Doing so can unsettle the lines causing them to be slack inside your pack job.

We recommend no more than 3 wraps of the tail. Wrapping the tail to excess will cause the C and D lines to move further towards the nose and away from the centre of the canopy, increasing the risk of slack uneven lines.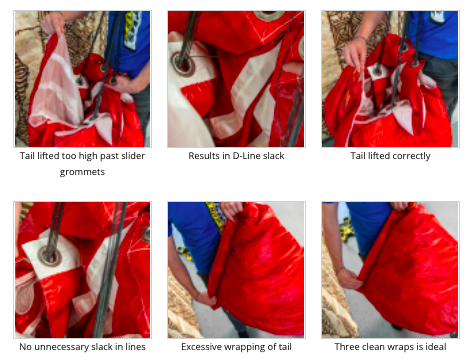 STOWING YOUR LINES
If you have a small amount of slack after placing the canopy on the ground avoid stuffing into the pack job, rather distribute evenly over the first couple of line stows. Alternatively you can tweak the pack job and gently pull on the top skin to tidy and improve line tension. Note: If you have excessive slack on multiple lines it is recommended to start the pack job again.

Always double stow with large bands. Also on locking stows if possible.

Stow size no larger than 4cm/1.5inches (about two fingers). The data showed this to be one of the largest contributing factors to tension knots. It is a simple and small change but having less excess through each stow means more line is under tension.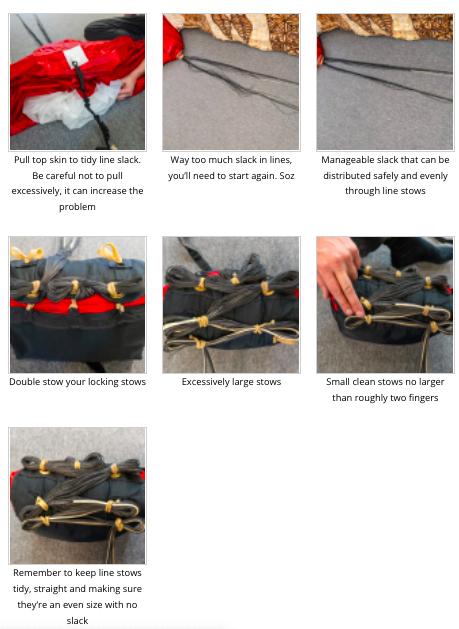 OTHER THINGS TO CONSIDER WHEN PACKING YOUR HP CANOPY
Maintain your equipment.

Make sure your pilot chute has plenty of life left in it.
Read more: 21 ways to keep your canopy looking good
The risk of a tension knot increases the older the lineset. This can be affected even more by the jumping conditions, for example if you jump in a dry and dusty location this can shorten the lifespan of your lines much quicker. Find out when it's time to get a reline.

An extremely tight fit in the container can potentially increase the risk of a tension knot occurring.
There is no clear data to indicate that your style of D-bag (i.e. Stow or Semi-stowless) increases or decreases your chance of a tension knot. There is no clear data to indicate that your slider type (i.e. Regular or Removable) increases or decreases your chance of a tension knot.
We are aware that some people use third party manufacturers for their line replacement. Although, in most cases, they have the line measurements used by JYRO (previously NZA), they do not go through our rigorous quality control processes.
Therefore NZ Aerosports Ltd can take no responsibility for defects or issues caused by said third-part line replacements. Read more on aftermarket linesets here.