Size is influenced by your weight and wingloading, as well as experience and skill, which affects safety and compatibility for you at your stage of skydiving.
The size of canopy you choose to buy is going to directly reflect the experience level as determined above; your jump numbers, currency, time in the sport, training, wingloading and most importantly, what your coach/trusted instructor/local swoop lord tells you. (Seriously, you should have the go-ahead from your local canopy coaching, instructor, DZSO and Chief Instructor on what size you are ready for BEFORE you buy it).
If you're thinking of downsizing, this Downsizing Checklist for Skydivers is a handy tool to work through with your coach as well.
SIZE OPTIONS
Skydiving canopy size is measured in square feet (sq/ft). How do we get this measurement? Wizardry…and not integral to understand for the purpose of this article. Each manufacturer has slightly different size options, but they follow a general principle of having about 4-14sq/ft between each size option - the gap decreases the smaller the wing gets.
A guide of how canopy size applies to experience level and canopy type:
NOTE: this is a rough range as per what's available to buy and manufacturers' suggestions - the choice of canopy size will directly correlate to individuals weights, wingloadings and experience as discussed in the subsequent sections.
What is your wingloading and what does it mean? Before we dive into some advanced mathematics, now is a good time to let you know that your body size plays a big role in determining what canopy size is right for you. If you're a giant and have a friend who is tiny with the same amount of "experience" as you, it's more than likely they will be getting a smaller wing than you. To say it simply: the bigger the person the bigger their wing will need to be.
NOW FOR THE ADVANCED MATHEMATICS
To work out your wingloading, we need to work out your exit weight in pounds (your Exit Weight is you and all your equipment you need to jump from a plane). If you know this in pounds then you're good to go. If you're one of those strange countries that use the metric system (also known as the majority of the planet) and work in kilograms, you simply need to multiply your exit weight by 2.2. Once you have this number, you then divide it by your canopy size.
Here's how the full equation looks if converting to pounds:
Exit Weight x 2.2 = Weight in pounds ÷ Your Canopy Size = Your Wingloading
As an example, let's say our exit weight is 92kg and we jump a Crossfire 3 129:
92 x 2.2 = 202.4 ÷ 129 = 1.56 is our Wingloading
Using this equation we can see that different size people will have a different wingloading under the same size canopy. Basically, the heavier we are under a canopy compared to a lighter person, the higher our wingloading and the faster it will go, and therefore more experience and skill will be required to fly it.
We made it super simple for you, so if you want to work out your wingloading (and how that applies to canopy type) check out our Wingloading Calculator.
A rough guide of how wingloading applies to experience level is shown in the infographic below: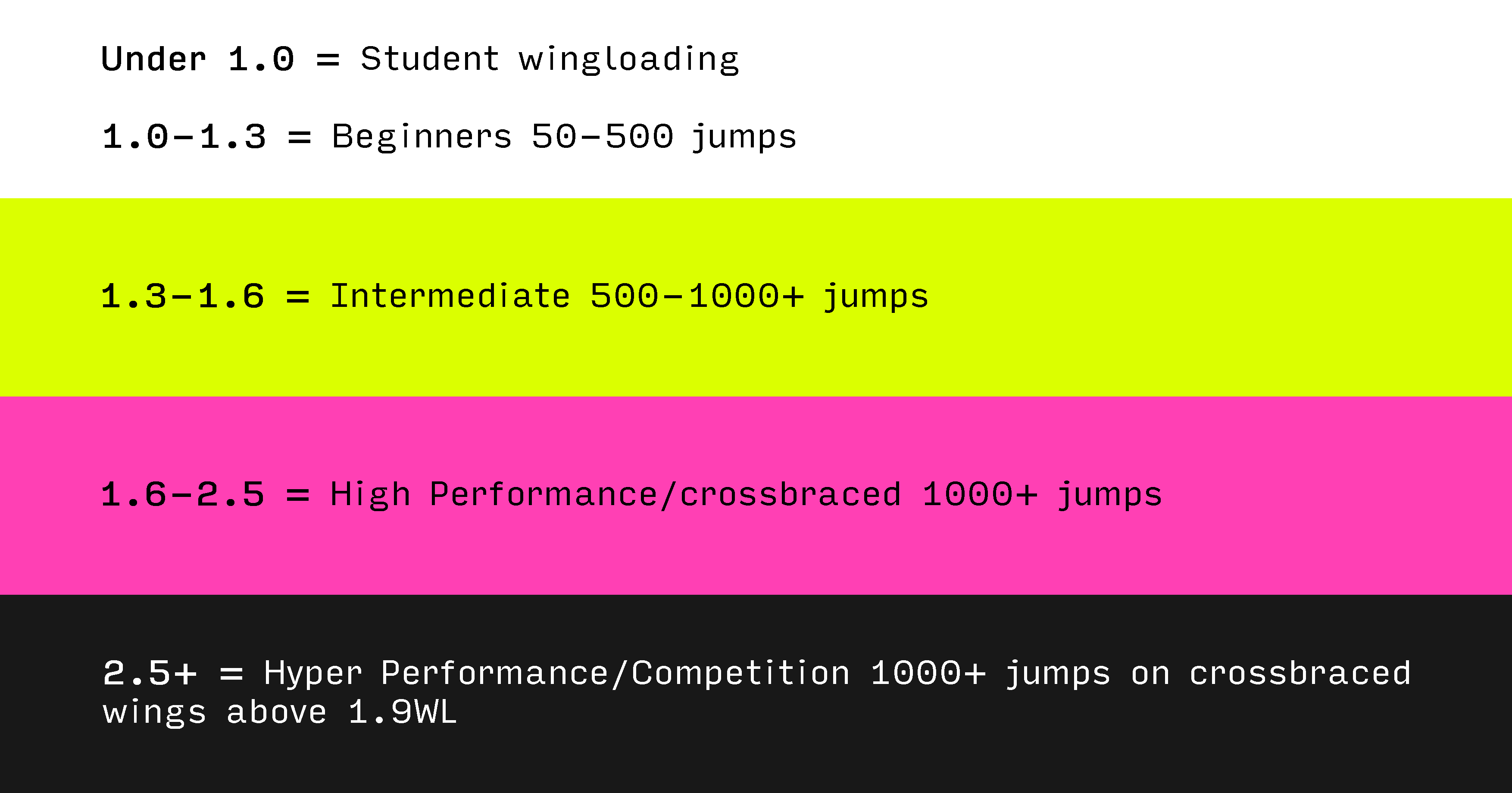 Some countries and federations have rules and guides about wingloadings and canopy types so it's best to learn the local rules where you are first.
Click here for the next article in our Buyer's Guide: What Materials & Options Should I Choose for my Canopy?